Invisalign In Stony Plain
INVISALIGN: A CLEAR ALTERNATIVE TO BRACES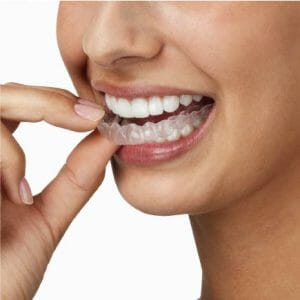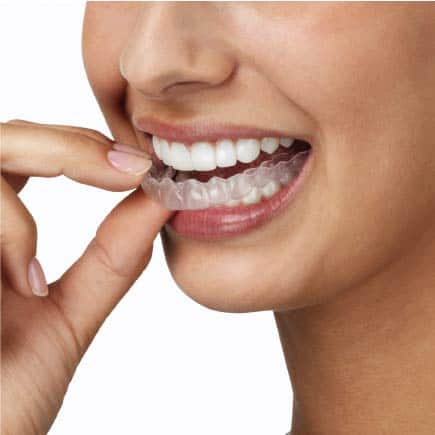 Invisalign in Spruce Grove, Stony Plain & Edmonton
Invisalign has become a popular alternative to braces. It works by having the patient wear a series of Invisalign trays (called aligners). The patient must wear each aligner for ideally 22 hours a day during the full duration of treatment. The aligner is specifically designed for the patient and will place gentle force on the teeth to move them little by little. As the aligners are replaced with the next in the series, the teeth will eventually reach their optimal aesthetic place. The patient is then given a retainer appliance to ensure their teeth do not drift from their final positions.
HOW DOES INVISALIGN WORK?
Over the course of treatment, you will be supplied with a series of aligners. Each aligner will make slight adjustments to tooth position, a process that is mapped out in advance by your doctor, specifically for your situation. When the aligners are placed on the teeth, they cause the teeth to gradually shift from their current position. After approximately two weeks, you will begin using the next set of aligners, which will continue the teeth straightening process.
WHAT ARE THE BENEFITS OF INVISALIGN?
There are several benefits to the highly advanced Invisalign system, including:
Discreet Appearance – Because these aligners are translucent, they are the perfect option for those looking to straighten their teeth subtly, and without the attention of others.
Increased Comfort – The metal used in traditional braces can often cause discomfort. Invisalign is made of soft, flexible plastics pdesigned to reduce irritation.
Improved Oral Hygiene – The removable aligners make it easy to maintain a healthy smile because there are no wires or metal brackets to inhibit your traditional brushing and flossing habits.
Fewer Dietary Restrictions – During orthodontic treatment, it is common that patients must refrain from eating many foods they previously enjoyed for fear of damaging their wires or brackets. Unlike traditional braces, Invisalign aligners are removable, allowing you to take them out during meals and maintain your usual diet throughout your treatment.
Invisalign Teen

Invisalign Teen is similar to Invisalign for adults except for a few differences:
Colored Compliance Tabs – Invisalign Teen features a blue dot indicator on each aligner, which will fade away after two weeks of wear. This technology helps us determine if movements are complete and ready for the next stage. It also reminds the patient to wear the aligner as often as recommended, as their doctors can tell if the duration of has been inadequate. Invisalign Teen is proven most effective when it is worn for 20- 22 hours a day, and routinely, the trays are changed every two weeks.
Replacement Aligners – Invisalign Teen comes with six complimentary replacement aligners, just in case the patient misplaces the original set.
Eruption Tabs – Many teens still have permanent teeth emerging from beneath the gum line. This is why there is additional space left in the aligners to make room for any adult teeth which need to erupt, making Invisalign a treatment option for teens.
Frequently Asked Questions
The Canadian Dental Association recommends every child have an orthodontic assessment no later than age 7. That's because not all orthodontic problems can be treated if we were to wait for all adult teeth to be present. Waiting on treatment can lead to a less than ideal result. Certain orthodontic problems are best treated when children have a combination of adult and baby teeth.
Yes! We offer flexible financing options such as 0% financing and extended payment plans. We will work with you to create the perfect payment plan.
We want to make sure you have a good idea of your orthodontic condition is and what your treatment options. In an orthodontic consultation, you will get an opportunity to tour the office, meet the doctor and the team. The doctor will look at your mouth and assess the complexity of your treatment and review what treatment options are available to you. Together, we will discuss any concerns you may have with your orthodontic treatment.

Our orthodontic consultations are free